You may think that the only way to get glowing-looking hair nails and skin is by spending an entire day at the spa, but the truth is that there are simple ways in which you can take care of your skin, hair, and nails.
Just follow these tips and make them look healthier and fabulous.
1. Lower the heat
We all love hairdryers and straighteners, but it's no secret that heat excess causes a lot of hair damage.
In the beginning, hair is smooth and bright, but in the long run, it ends up with split ends, less shine, dryness, and tangled hair.
Heat is no good for your skin either, hot water strips the oil from your skin, and takes away the moisture it needs. Next time you take a shower use lukewarm water instead.
2. Clean your face at the end of the day
Leaving your makeup on can lead to serious consequences: blocked pores, breakouts, eye irritation, and premature aging. So don't skip your makeup cleansing every night, even if you are tired.
Also, make sure to clean your makeup brushes regularly! Remember that your makeup brushes collect all the bacteria, sweat, and oil, from your face and from the air, which can aggravate skin conditions.
3. Have a diet rich in antioxidants
What you eat reflects on how strong and healthy your skin, hair, and nails are, for instance, you should eat foods containing Zinc, Selenium, and Copper, as well as vitamins A, C, E, and D.
Such as papaya, blueberries, broccoli, spinach, sweet potatoes, red bell pepper, avocado, and nuts.
These foods rich in antioxidants work as an anti-aging remedy for your skin, hair, and nails.
4. Use a supplement for healthier skin, hair and nails
Treating yourself with an MSM formula like Solgar Skin, Nails & Hair Advanced MSM Formula, can make huge positive changes in your body.
What's a MSM formula and how can it help you?
MSM refers to Methylsulfonylmethane. It's a highly nutritious dietary supplement that Improves skin health by strengthening keratin.
Keratin acts as the main structural component in your hair, skin, and nails, MSM also reduces inflammation, which is responsible for damaging skin cells and the appearance of signs of age.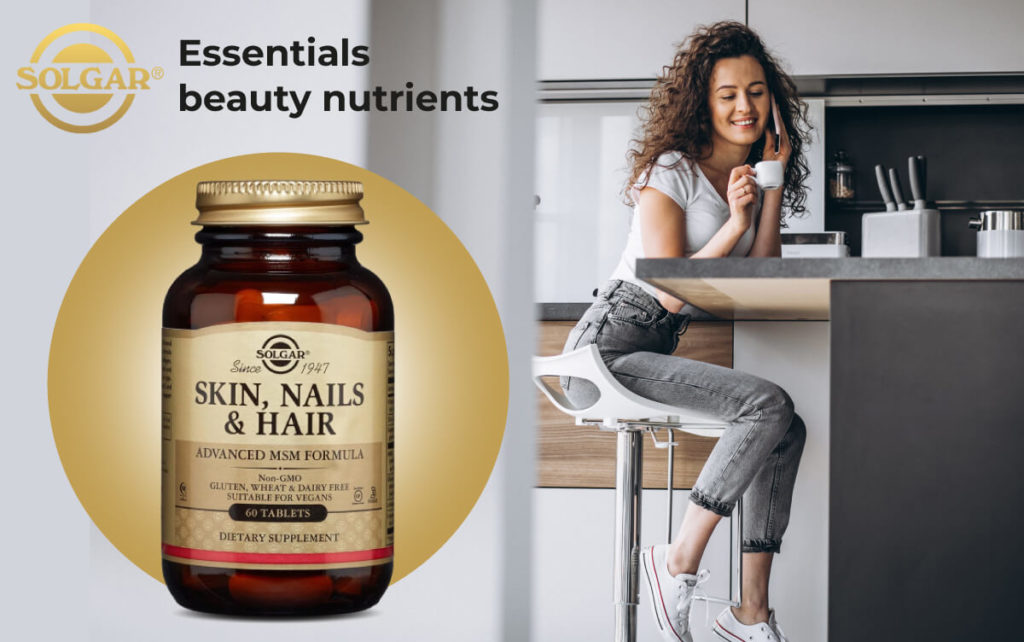 Benefits of Solgar Skin, Nails & Hair Advanced MSM Formula
Promotes collagen and keratin production.
Contains high levels of amino acids.
Promotes bright and youthful skin.
Contributes to strong nails.
Provides Vitamin C, Zinc, and Copper.
Prevents premature aging.
5. Exercise and get rid of stress
Exercising promotes oxygen circulation to all of our cells, including the ones in our hair, skin, and nails.
This provides an instant glow and helps our skin to repair itself faster.
Exercising also reduces cortisol levels caused by stress. When cortisol levels rise, dermatologic problems, such as acne, oily skin appear.
Now that you know how to obtain healthier skin, hair, and nails, you can make these small changes and naturally achieve a more radiant look.